When I'm on vacation, I usually love to sleep in until 7:00 or so, but not my roommates! Alice was up and working on her computer long before 6:00 and Glenda jumped in the shower. I worked at waking myself up in time to sip the hot coffee Alice brought back to our room around 6:45. We discovered a $2 breakfast at Denny's just down the road from our hotel, and had a quick bite there before heading north.
I had noticed on the sightseeing bus brochure that parking was free at the Vista Point north of the Golden Gate Bridge and we could catch the bus from there. After confirming with all the signs that it truly was okay to park there for the day, we hopped on and headed into the city. First stop: Chinatown.  We wandered down Powell Street a few blocks when suddenly we entered the shopping district. What a beehive of activity!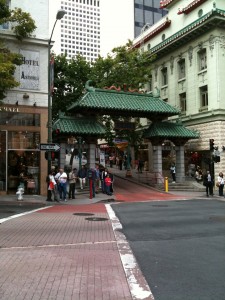 There were many fruit and vegetable stands and meat markets, all selling Buddha only knows what. An array of fish and fowl with heads and eyes, tripe (which I understand is cow stomach), assorted mushrooms and oddly shaped cucumber-like orbs dazzled our eyes. I wasn't tempted to buy anything.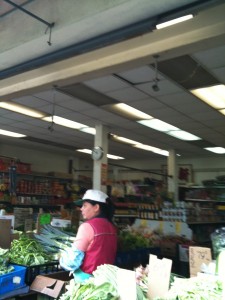 We found a Szechuan restaurant that had posted its menu outside and it looked like familiar and edible dishes, so we ventured in. The hostess and waitress were glad to see us. There were guests at only one other table at the time. The food was delicious (yes, I found Asian food that was delicious!) and by the time we finished eating and paid our bill, the little dining room had begun to fill.
We moved on out of the food district and into the sundries area. A myriad of trinkets and clothing were available for next to nothing. As an example, I got Tshirts for Lauren, Nathan and Andrew for $1.88 each, and they are pretty good quality. I bought a few other items to put away for Christmas gifts.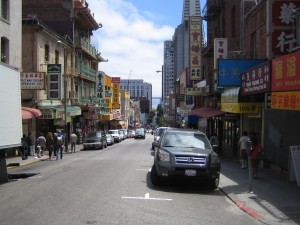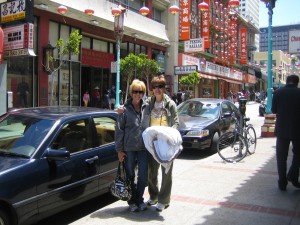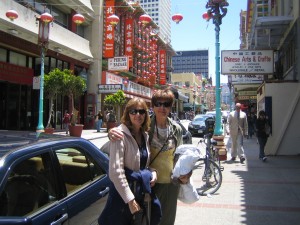 Mid afternoon, we headed toward the next bus stop. We had planned to climb Telegraph Hill and see the Coit Tower, but it would have to wait for another day. We spent too much time shopping! The last bus pickup was 5:00 so we didn't want to get stranded 25 miles from our car. We rode to Vista Point and all breathed a sigh of relief when we saw it was still there. We drove back to Union Square area, which we had just left, to eat dinner at Sear's Fine Foods, one of the restaurants a Facebook friend had recommended. It had a fancy atmosphere, but the food seemed ordinary. Their specialty, pancakes, was not available on the dinner menu.
Back at our hotel, we turned in for some shuteye before day 3.