We got another early start on the day, after eating breakfast in the hotel restaurant looking out over the ocean again. Then we headed into town to tackle Telegraph Hill and see Coit Tower.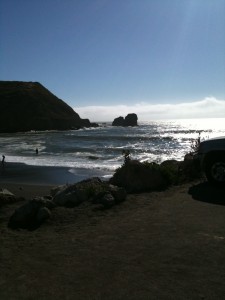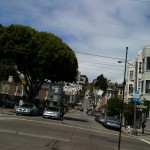 We drove to the area and circled the block a few times looking for a parking space. There was a tight one on a steep street just a half block from the trail that led up the hill, and after measuring with our eyes, Alice jumped out to make sure we would fit. It looked like we had about 10 inches front and back, and Glenda is a good parallel parker, so we went for it. With Alice outside and me in the passenger seat, Glenda began the sashay to and fro of backing into the space. A nice couple ambled along the street, and the gentleman stopped and assured us we were going to make it. Then he started giving Glenda directions: "Crank your wheel all the way to the left and pull forward six inches. Okay, now crank it to the right and ease back eight inches. Trust me!" He said that several times. "Trust me! I've done this many times." We continued sashaying, but didn't seem to be getting any more into the space. So I asked the guy, "You DO know we are trying to get IN, don't you?" And he doubled over in laughter and exclaimed, "Oh NO! I thought you were trying to get out!" He wanted to help us go the other way, but his wife said he had helped enough, and made him move along. Between the three of us, I'm proud to say we got her car back into the space with four inches to spare. 🙂
We climbed the hill; it was great exercise! There is a statue of Columbus at the top, and a nice lookout area. (I was going to tell you about the perma-potty in the parking lot, but it stunk just thinking about it.)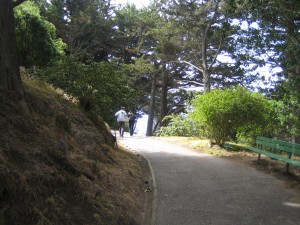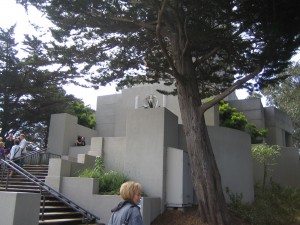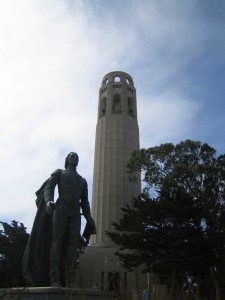 We paid $5.00 to take the elevator up to the top of the Tower, and really enjoyed the guide and view. The Tower was built in 1933 by Lillie Coit, as a monument to the firefighters in the city. Frommer's said it was the best place to get a view of the entire city, and we could see for miles; at least as far as the fog would allow.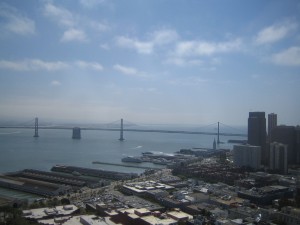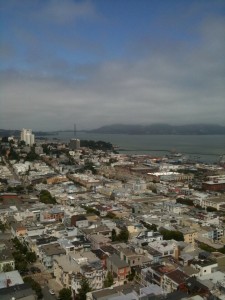 There are murals painted on the walls of the rotunda on the ground level. These were painted by faculty and students of a California art school.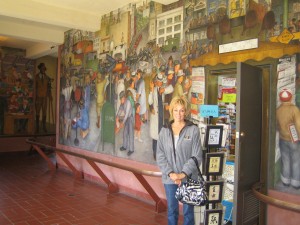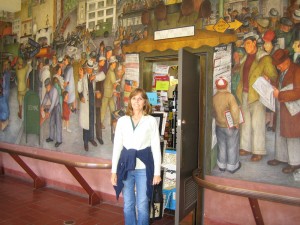 We walked back down to our car (which was easier than climbing up) and began the sashay of getting out of our space. Where was the helper guy now? But, Glenda did it in three short reverses. Getting out is always easier than getting in. Then we headed to the Haight Ashbury district.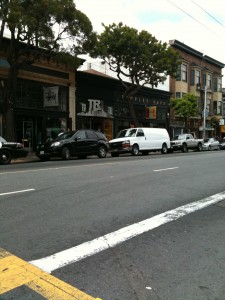 We ate at People's Cafe right on Haight Street, which turned out to be our favorite lunch spot of the week. A Facebook friend had recommended it and told me it was owned by a good friend of a former Intel co-worker. They served breakfast, and soups, salads and sandwiches. Everything was organic and fresh, and delicious! Then we wandered down the street checking out the shops. You could get a tattoo, then go next door to pick up a bong, and buy a tie-dyed sarong on down the street. There were a bunch of teenagers on a scavenger hunt, and they stopped us to ask if any of us were born in the 60's. We thanked them profusely, but sadly no… wrong decade.
We drove over the GG bridge to Sausalito for an afternoon of strolling through the shops. One glass works shop really caught our eye and we spent at least 40 minutes in there looking over the expensive art work and talking with the sweet lady who ran the shop. (I can't believe this is the only picture I took in Sausalito!)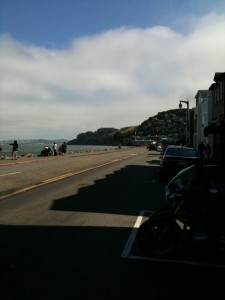 We opted for a quick happy hour stop before heading back across the bridge and into the city. We ate dinner at Fior d'Italia, near Fisherman's Wharf, and it was our favorite dinner of the week. I snapped this picture after I had eaten my fill.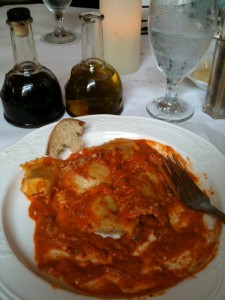 It was fogging over again as we made our way south to our hotel, where our room with the beautiful ocean view awaited us.