Second verse; same as the first. Another year of the Covid-19 pandemic dominating our lives. At least this year, we have vaccines! I remember the December morning I saw on the news that semi trucks filled with those little life-saving vials were headed out across the nation, I actually cried with joy. I got my first Pfizer shot in February with my follow up on March 6. Three weeks later, I felt fully protected, and began venturing back out to the grocery store (wearing a KN-95 mask). As soon as I knew Robin and Ken were fully vaccinated (in April), I made a trip to Boise to visit my family that I had not seen in 18 months. In the next several months, I got in a few more traveling activities before the Omicron variant reared its ugly head, spreading like lightning, postponing the end of the pandemic and threatening our plans once again.
But enough about Covid. There were some wonderful things that happened this year, and now in December, I'm happy to say all of my family have made it through this year and are still healthy and safe.
As I wrote earlier on this blog, we had two graduations and two weddings. Granddaughter Megan and grandson Nathan both graduated with honors from college. We celebrate their accomplishments and excitedly anticipate their futures fulfilling their dreams and making a difference in the world.
My nephew Derek (and Kelsey) had a quiet wedding in Sedona in March, and Megan and Christian celebrated their nuptials in September. See my post about this big event along with many pictures of the happy couple.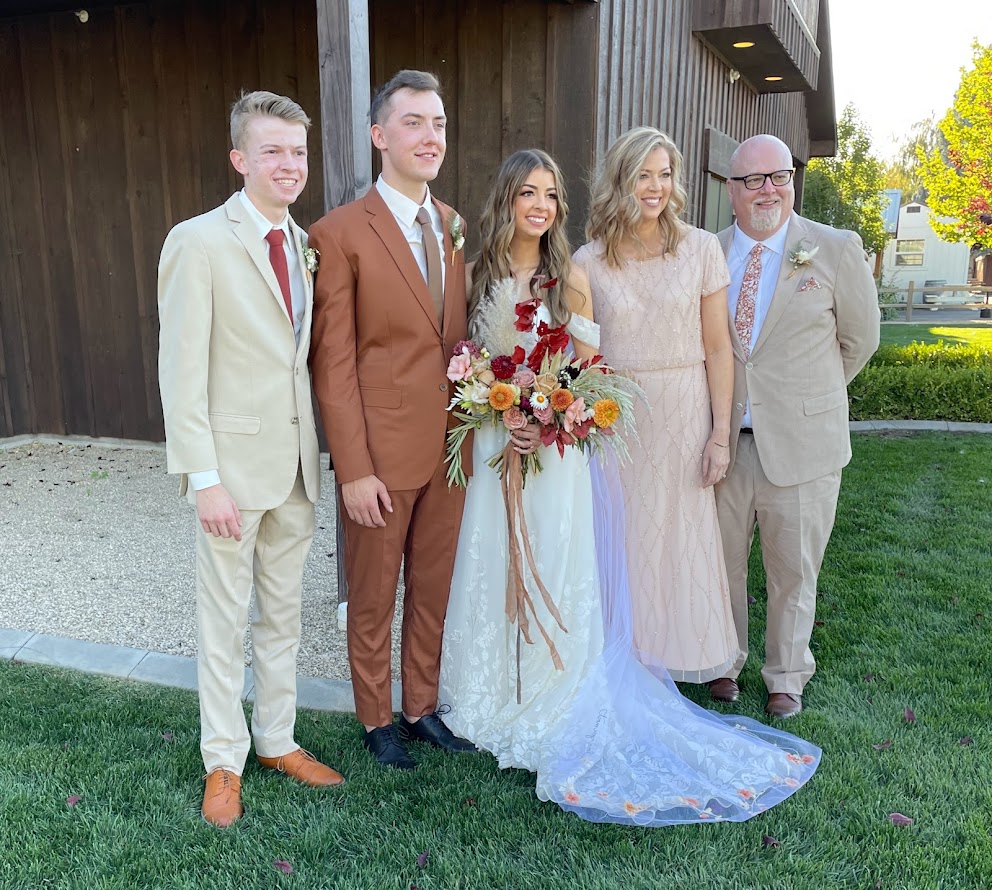 In October, I decided to get Minnie back out of the side yard, and I drove up to the Mogollon Rim where I camped with my brother Dale for three days in the rain and cold before we moved south to an area near Rye for another week in the sunshine. It was a great re-entry to RV camping and I've added a couple RV upgrades to my Christmas list. As of this writing, Santa already delivered on one wish (a solar panel) and it's sitting under my tree.
In September, the CDC recommended (and approved) another booster to the Covid vaccine, and I got a Moderna shot on October 24. Knowing I was now protected from serious Covid illness, I made a trip to Disneyland in December. It had been two years and one week since my last visit and that's an eternity for a Disney fanatic. Carrie and the boys (Nathan & Andrew) joined me, and we had a wonderful, magical, Christmassy time. Five days after we arrived back home, we took home Covid tests, and all tested negative.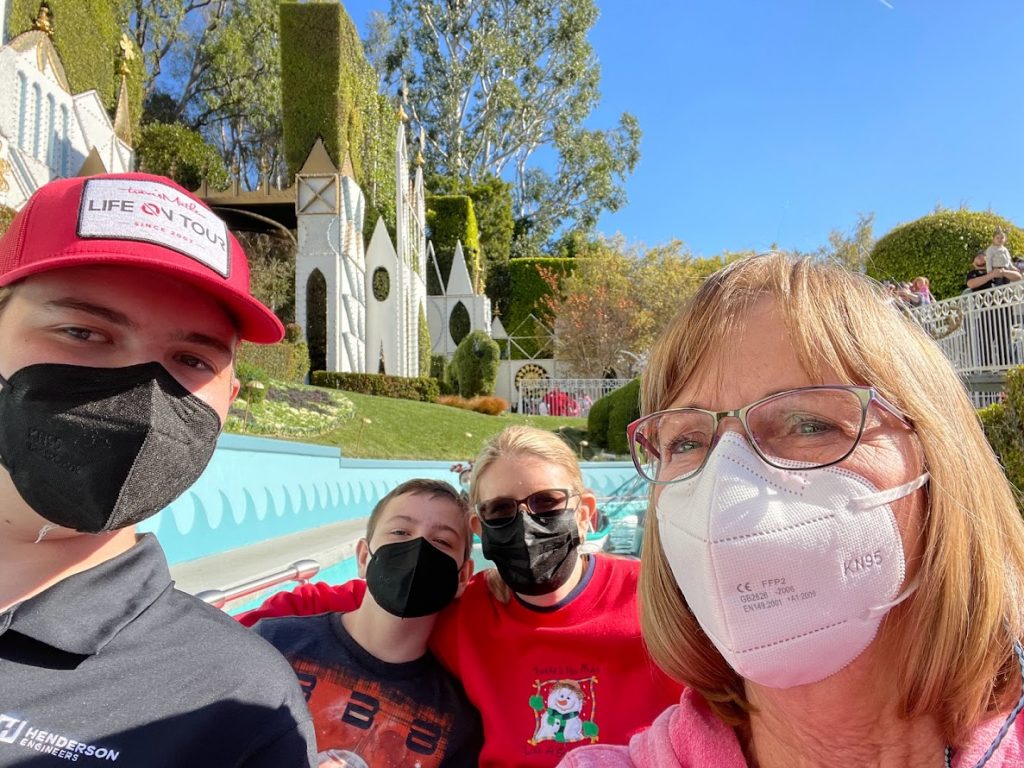 As for the rest of the family news, Lauren is 21 now, and continues to be fairly healthy and generally a happy girl. Our main focus (and success) over the past two years has been keeping her safe from exposure to Covid, as she is immune compromised. Steven at 17 and a high school junior, plays tennis and has become an expert videographer, winning praise from his high school sports teams and interest from colleges. Andrew, 12, has excelled in home schooling and is working at 10th grade level. His interests mostly lie in the computer arena, where he is doing high level programming development. He has hopes and dreams of becoming a commercial pilot and maybe an astronaut someday. I mentioned Megan's wedding, and she and Christian are currently living in a cute condo in Boise, both working at their church while Christian is finishing up his college degree. Nathan was accepted to med school but after a couple months of classes this summer/fall, he decided to withdraw and take a "gap year". Since he already has his bachelor's degree at only 19, his parents fully supported him taking a break from the intense study routine, and doing something totally different for a while. He just earned an internship with Brian's company and will be learning project management skills and applying them to the construction world. Talk about a complete diversion!
Brian returned to his construction company office after working from home for a year, and Carrie still manages her lead role at Lauren's Institute for Education, mostly from home. Ken has been able to fully transition to his home office, working for Freeman company, which does major events around the world (think Super Bowl halftime shows, professional conventions, etc.). Robin is still the costume designer for a ballet studio and a professional ballet company, while she works part time at their church in the media and communications department.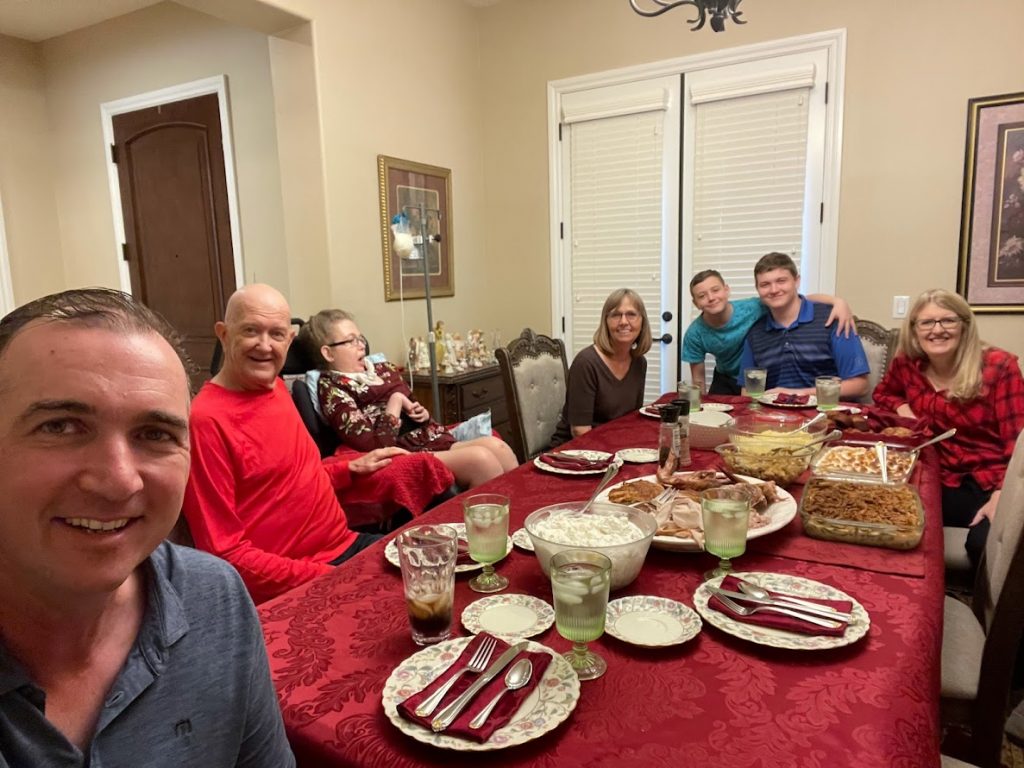 In the event that 2022 is not just "2020 too", I would love to make more travel plans. I want to take another weeks-long trip in my RV, maybe somewhere north and east. I also have been building a bucket list of international places I'd love to visit, which includes Australia and New Zealand, the U.K. and Iceland, and other European countries. And maybe, just maybe, some of the international Disneylands. Imagine the magic in that!
As 2021 wraps up and the holiday season winds down, I want to take a moment to wish you all good health, much joy, and the blessing of abundant love, as we face a new year together. Merry Christmas and Happy 2022!