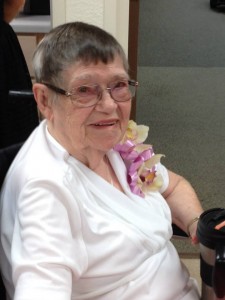 This was a year of incredible loss, as Mom passed away on February 3rd. She had gone downhill for several months and lost interest in everything around her. Her kind and astute doctor recognized the signs that her end of life was near and recommended Hospice. Just three weeks later very early on a Friday morning, Mom left us. We knew, at almost 93, that time was nearing, but I was surprised at the overwhelming grief I felt and also with how much I still miss her every day. I think of her so often and wish I could share some news or anecdote with her, or ask her a question. She left behind about two & a half dozen journals, and as I've been reading through them this year, I am reminded of so many wonderful times together, but also have found many new tidbits about my parents' lives and travels. Her writings have inspired two things for me: to start journaling myself, and also to travel to some of the beautiful spots that she and Dad enjoyed so much in their RVing days.
I started the year with a trip in my Minnie to Quartzsite to visit the Big Tent Show, an annual gathering for RVers. Once was enough, and I won't waste my time going again. I had planned to visit the Mexican dentist during the same trip, but Mom's deteriorating condition caused me to cut my trip short and head home. I went back to Yuma and across the border to see Dr. Sonya in March for a check up and cleaning.
I headed to Disneyland with the Reeds in late February, and again in May, then again for just a couple days by myself in October. With my annual pass, I usually go three or four times a year. It's getting harder and harder to find a time when it's not overcrowded, especially as they add new lands, rides and features.
I camped with Dale again in April up near Cottonwood and Sedona. We enjoyed riding his bike to Out of Africa, Montezuma's Castle and hiking to Devil's Bridge.
In June, I flew to Boise to attend Megan's high school graduation and her last ballet performance. She is heading to Boise State University Honor's College to pursue a degree in graphic design, and leaving dance behind.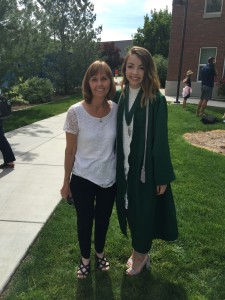 Mom left a small inheritance to each of us kids, and I decided to do something worthwhile and memorable with mine. In May, I bought a 2009 Honda Fit to tow behind my Minnie. I knew it would give me a lot more freedom in my travels, and I could stay in campgrounds for longer and venture out sightseeing in my car. I really put it to great use this summer, as I traveled to Idaho, Wyoming, South Dakota and Montana. I was gone more than nine weeks, and part of my travels were with my two grandsons, Nathan and Steven, as we visited Yellowstone, Grand Tetons, Devil's Tower, Mt. Rushmore and Badlands. After dropping them back in Boise, I headed up to Glacier National Park, a place I had read about in Mom's journals and felt drawn to visit this year in memory of her.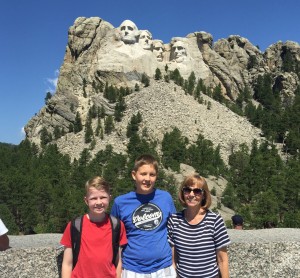 August found me back in Idaho in the path of totality for the 2017 Great American Solar Eclipse. Dale, Daryl and Gisele joined me near where I was camped. It was a spectacular event, much better than we had even anticipated, and we are all making plans to view the next total eclipse in 2024 within the path of totality.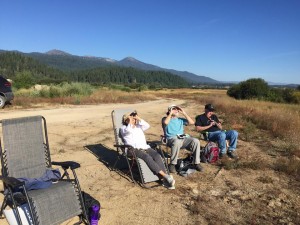 In October, we five siblings all flew to New York to bury Mom's ashes beside Dad's in Obi Cemetery. It was a bittersweet trip, reminiscing about our childhood, but also putting finality to Mom's life.
Since Carrie and I love Disney at Christmas, we had decided to take a holiday trip to Orlando with Nathan and Andrew this season. While there, we also made a one day drive to the Kennedy Space Center and enjoyed that immensely. The boys were old enough to show great interest and we had a wonderful day learning about the history and future of NASA and the space program.
Both Robin & Ken and Brian & Carrie bought new homes this year, and I was blessed to be able to spend the holidays with each of them. Christmas Day found me at the Reeds opening gifts and enjoying a delicious ham dinner at their spectacular home in Gilbert, Arizona. I rang in the New Year with the Holsingers in their lovely home in Eagle, Idaho.
2018 is here and I look forward to a trip east this spring, heading to the National Seashores on Padre Island, then a visit with my friends Wendy and Denny on the Alabama coast. From there, I plan to swing north through Kentucky to see Denice before heading back home. I hope your 2017 has been filled with special memories and love that made you cherish each and every day. May 2018 bring good tidings and joy to you and yours.