Our last day in San Francisco started at 5:15 a.m. when one of my roomies decided she had laid in bed long enough. I snoozed for another hour, but 6:15 is still too early to get up on vacation, isn't it? We ate at Denny's again and drove into town.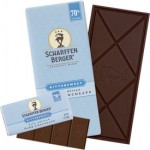 Our first stop was Ferry Plaza Farmer's Market. We wandered around the market for a while sampling fruit, cheese, meats, and chocolate. Alice and Glenda bought some fresh fruit and I bought Scharffen Berger's dark chocolate. (As a matter of fact, I have savored it all week, and just finished off the last tiny square last night.)  We were a bit disappointed with the farmer's market; there were only a handful of booths with fresh organic produce, but many expensive little shops.
We had discovered a free parking garage at Trader Joe's near Fisherman's Wharf the night before. We were Trader Joe customers (we went in there 4 times during our visit) and the employees told us no one was ever towed from the garage and it would be okay to park there for a while.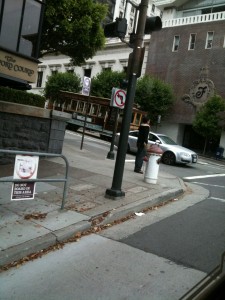 We bought Muni tickets which were good for the cable cars, the trolley, the bus system and BART, and rode the cable car down to Market Street to do some shopping. Alice and Glenda headed to clothing stores while I made a detour to Apple. I had been having some problems with my Macbook and wanted to ask for advice at the Genius Bar. While I waited for my appointment time (approx. 40 minutes), I sat in on an open training class on iTunes software and actually learned a lot. I use iTunes quite a bit for loading music and audiobooks on my iPod. The expert showed some tremendous tips that I have already implemented since I got home. After my Macbook appointment (the "genius" gave me some good advice), I met Alice and Glenda at Starbucks for a short break.
After a bit more shopping, we inquired about where to eat and a clerk in one of the stores told us we would find a great variety at the Food Court at the Westfield Mall. She was right; it was not the usual Sbarro's, Hot Dog on a Stick, Panda Express and Paradise Bakery. We found Vegan, Japanese, juicy burgers, an organic bakery and many other unfamiliar, but deliciously fragrant offerings. Glenda and I chose the Japanese place after sampling a bite of teriyaki chicken, and Alice went for the Vegan fare.
Fully refreshed, we climbed aboard the trolley, and headed back uptown. That journey was an adventure as a large black woman decided she didn't like her seat nor the people around her and spent several blocks loudly vocalizing her displeasure. Finally, after a couple of warnings, the driver stopped and kicked her off. The trolley was so crowded, we couldn't see her, nor could he, so he asked, "Is she off?" and a man from the back answered, "Yes, can't you tell?" Peace had returned.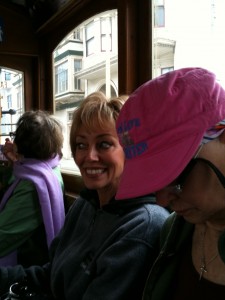 We got our car from Trader Joe's garage and drove to Golden Gate Park for a walk through the beautiful paths and gardens. I pulled out my iPhone at one point and discovered we were only a short distance from two geocaches, so we stopped to search and found those. One of them was Alice's first find!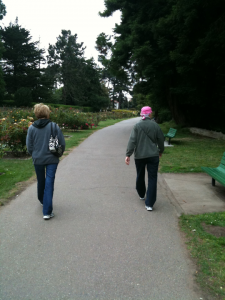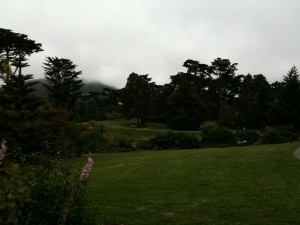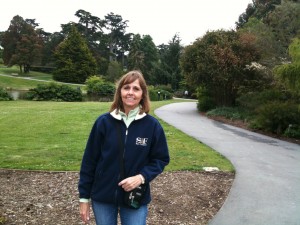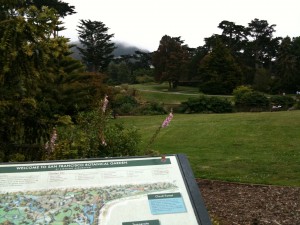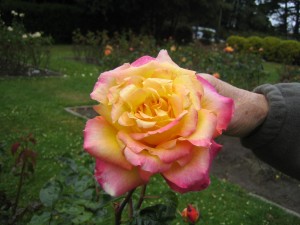 We used Yelp on my iPhone and Glenda's Incredible throughout our trip to locate restaurants and shops. On our first night we had found a barbecue place just a couple miles from our hotel with marvelous reviews, but it was closed each time we drove past. We decided to try it one last time on our last night and to our delight, found it open! They were out of every meat except chicken and pork ribs, but those two suited us just fine. We asked for it to go (since that was the only way they served anyway! 🙂 ) and took it back to our hotel room to dig in. It totally lived up to the Yelp reviews and we thoroughly enjoyed our last supper together.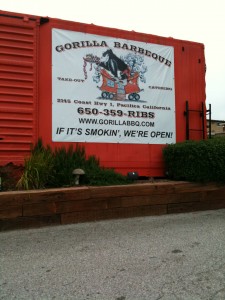 Friday morning meant saying goodbye to Alice (we dropped her at SJC airport) and heading on down the road toward home for Glenda and me. That morning when we woke up in Pacifica, the temperature was 52°, and when we pulled into our hotel in Cathedral City that evening, the thermometer read 103°. What a difference a day's drive made! Yelp located a tiny Mexican restaurant nearby and we had chimichangas and enchiladas before bed.
As we were checking out the next morning, we inquired about Hadley's, and found we had passed it already (they sure don't do a very good job with signage), but Shield's Date Shoppe was just up the road. We made a stop there where I bought dates and cashew butter and Glenda bought pistachio nuts. We listened to a good audio book and pulled into Mesa at about 3:00 with the car thermometer reading 113°! Oh, for those 52° mornings and fleece jackets again!