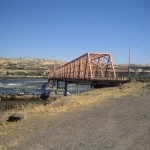 The road from Boise to Portland cuts through the Columbia Gorge. It's a favorite location for wind surfers and follows the trail of the Lewis and Clark Expedition. I am sure I have been through there many times, but I did not remember it. I programmed my GPS on Sunday evening with Ken's suggestion to drive part of the way on the Washington side to get more diversity in our view. So I set several via points on the Washington side and the final one just before we needed to cross back over to Oregon to head into Portland. I thought it would just carry us along state route 14 all the way. Wrong! Since I had originally told it to always pick the fastest route, the crazy thing kept directing us to cross back over to the Oregon side and whizz along I-84. The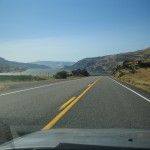 first two times, we just ignored it and let it recalculate. But she was insistent that we get back over to the fastest road and we listened to her "Recalculating" over and over again until we finally muted the thing and drove as far as we wanted on that side of the road. Then we crossed back over, set our destination for Alice's and let her rip. I'm not sure it picked the best route through Portland, but we did get a good taste of all the businesses on Powell Blvd for many miles.
We arrived at Alice's at 6:00, and she had dinner waiting for us. We enjoyed barbecue beef sandwiches and garden salad while our mouths were flapping 90 miles an hour. After all, we had LOTS to catch up on! We took a walk on the park trails after eating because it's daylight until almost 9:00. Glenda and I started out with our sweatshirts on, but by the time we got back to Alice's condo, we had them tied around our waists. The weather was absolutely perfect the whole time we were there!