Our plans were to use day 2 of our sightseeing bus pass to tour upper Manhattan, and eat fried chicken and homemade pie at Sylvia's in Harlem. However, we hadn't taken into account that the New York Marathon was running that day, and the streets along the bus route were totally blocked, with tens of thousands of people filling the park.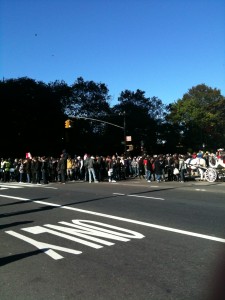 We walked and walked trying to find a red bus, but never saw one all morning. It was a bitterly cold and windy day, and we ducked into FAO Schwartz, The Plaza Hotel (Robin took a picture of the portrait of Eloise for Megan) and even the Apple store to get out of the cold for a few minutes as we walked. By noon, the sun had started taking the chill off a bit, and we walked through Central Park, and pushed through the crowds watching the runners, looking for a place to eat lunch. Our hopes for Sylvia's had been dashed and we settled for a deli serving soups, salads and sandwiches.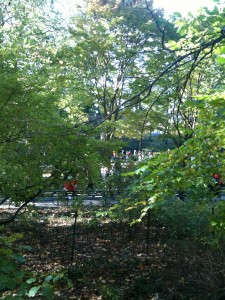 We made a brief rest stop at our hotel, and then decided to walk downtown again. Robin wanted to visit H&M, a store that carries reasonably priced children's clothing but does not have an online store. On the way, we passed FoxNews, but they don't offer tours, so we could only take pictures of the outside marquee.  We found the H&M store next door to the hugest Victoria's Secret I have ever seen. It was three stories, and was filled to the brim with people. Lingerie is sure a whopping business.
With arms full of packages (children's clothes, not lingerie), we made our way back uptown to meet up with other members of our group for our nighttime bus tour of Manhattan. We knew it would be cold, so we bundled up as warm as we could, and climbed aboard the bus. The nighttime tour bus only has the open top seating available, and we were in the frigid outdoor air, whizzing through the city, over the Manhattan Bridge, through downtown Brooklyn, along the riverside and back across the bridge before heading back to Times Square where we were let off. By that time, my feet were totally numb, and we were all frozen through. It would have been easy to grumble the enjoyment away, but we all tried to view it as an adventure to take the negative edge off. We laughed about how unprepared we all were for the unexpected cold and joked that if the driver had offered blankets halfway through the tour, we would have gladly paid $50 each for the use of one for the rest of the trip.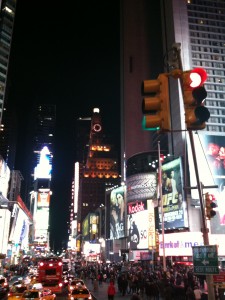 We found the first Starbucks we could after disembarking and stood in a crowded corner trying to warm up as we sipped coffee and hot chocolate. We reflected on the beautiful sights we had seen. Manhattan at night is not to be missed. The city skyline from across the river and the Statue of Liberty alone were worth every degree of freezing cold we endured. (Unfortunately, unless you have a really good camera, it's almost impossible to take decent pictures of lights from a moving vehicle, so I didn't get any. You'll just have to take my word for how pretty it all was.) Back in our hotel rooms, we snuggled down in our beds and dreamed of all we had experienced, for tomorrow we would fly home. Or so we thought.