Saturday was a bit warmer. Maybe I should say a little less cold. With no rain. That's a beautiful day in New York. Since we were seeing a matinee show that day, we only had the morning to sight see, so decided to postpone the second day of our bus tour until Sunday, and do a little shopping. Brenda went along with us because she was seeing the same shows we were that day and only had the morning open. Robin was longing to visit stores featured in her favorite reality/talk shows, Project Runway and Martha Stewart, and we walked to the fashion district. We were awed by the thousands of bolts of fabric in Mood, the miles of vintage ribbons and trim in Tinsel Trading Co., buttons and beads enough to cover the beach in the bead shops, and enough wrapping papers and crafts to fill Kate's Paperie.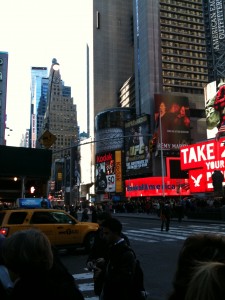 We hurried back to get ready for our next show, Driving Miss Daisy with Vanessa Redgrave and James Earl Jones. The Playbill notified us that Vanessa Redgrave would not be performing as Miss Daisy that day, but her understudy was excellent opposite Darth Vader, er… I mean Jones as Hoke Coleburn. The small Golden Theater is no Gammage, and every seat in the house is close to the stage. The actors did not even use microphones. The play was fantastic and we enjoyed it very much.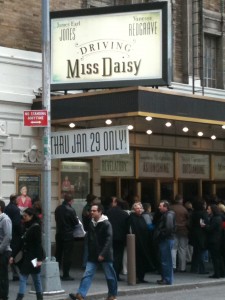 We had dinner together and freshened up for our final show, Promises, Promises with Kristin Chenoweth, Sean Hayes and Molly Shannon. We had been hoping all weekend that the stars would be performing that night, and we were ecstatic to find no understudy notices in our Playbill. Five minutes into the show, Robin whispered, "This is my favorite show!" It had us rolling on the floor laughing, and Sean Hayes almost had Kristin Chenoweth rolling on the floor laughing, too. Her demeanor (reminiscent of Carol Burnett's efforts to resist Tim Conway's ad lib humor) just set the audience off, and it was one of the funniest things I have ever enjoyed. Hearing Kristin sing live in person was just frosting on the cake. What a beautiful voice.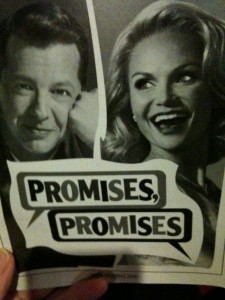 Another late night sweet snack with the rest of the girls topped the evening before retiring once again to our hotel rooms.