When my saguaro cactus was destroyed last year, I didn't get enough compensation from my insurance company to replace it, and neither did I want to. I decided to go with a less expensive option, and added a few small cactus plants myself, as a temporary upgrade. But this year, I heard from the City of Mesa court that the guy who ran into my yard was being prosecuted and I could file for victim restitution through the city prosecution office. The case hasn't come to trial yet, and I may not see my money, but I decided to proceed with more landscaping upgrades anyway.
I hired a professional crew to do the work and made sure that they included excavation of my driveway so I can (FINALLY!) get my RV out of the back yard. They added some additional cactus plants and refilled the gravel. Here is the finished look: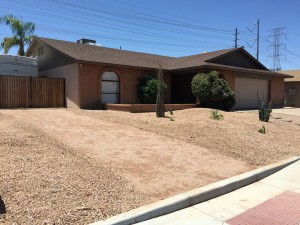 I had more extensive work done in the back yard. The existing grass had gone to weeds and the Sissoo tree had grown so tall, it was partially blocking my solar panels. Besides that, the roots were very shallow, the tree was leaning and was at risk of falling.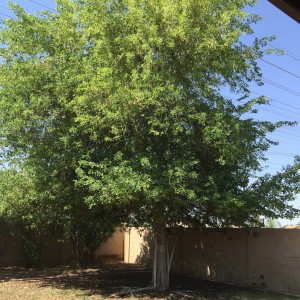 So I had it chopped down.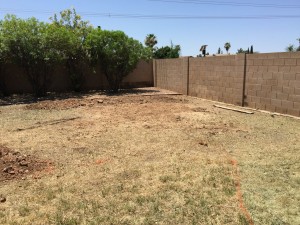 Boy, did it look bare out there, then! I had to negotiate with the landscaper about adding a few small plants along the west wall until I can plant another tree later this fall. (The tree guy said I should wait until cooler weather.)
I had them remove about half the grass area, add a second brick border and fill it in with matching rock, and then sod the remaining grass patch. (Hanna needs a place to poop!) Here's the finished yard.
*The second picture was taken a couple days after the first one and the grass is working to take hold and green up, but the landscapers will babysit it and guarantee it for the first month, so I assume it will be lush and pretty by August.
Incidentally, Daryl helped install a security camera system a couple weeks ago, and yesterday morning I spied a stray cat leaving a calling card on my brand new grass!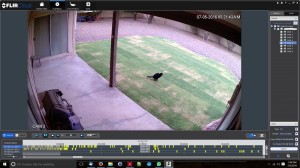 Save
Save
Save
Save
Save
Save
Save
Save
Save
Save
Save