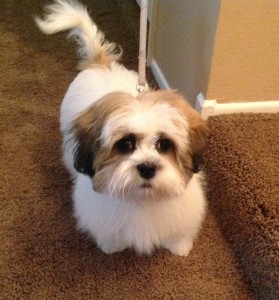 I haven't blogged about my new companion yet, so thought I would write about and post some pictures of Hanna.
After Hope died last August, I decided to wait just a bit to get another dog. I wanted  to take my time getting past that loss and deciding what kind of pet to get to ensure I made a smart decision rather than an emotional one. (So much for THAT pipe dream! More on that later…) After much research and based on my past experiences, I decided I wanted a small female puppy (< 9 months) that would not shed, but still had actual "fur" (instead of flat short hair) to get my fingers into for cuddles.
Since I was going to have 13 days off at the holiday break, I thought that would be a good time to introduce a pup to her new home, and get her acclimated while I had a few days to focus on her, and possibly on potty training. (Oh YEAH, did that come into play!) I thought it would be a great idea to see if I could rescue a puppy from the pound
On the Saturday before Christmas, Nathan and I headed out to several rescue shelters and the pound to look over the orphans who needed adopting. It was one of the most disheartening experiences of my life. I discovered you can't really go looking at places like that with a particular breed in mind (unless it's a Pit Bull or Chihuahua) or you're going to be terribly disappointed. They were filled with older, stinky, shivering or overly excited dogs of all sizes and shapes, but nothing like I was looking for. The pound smelled to high heaven like dog poop, and I had visions of bringing that home and going P-U every time I walked in the house. We left totally discouraged, knowing the pound experience was not for me.
So I began to look on Craig's List for puppies, and found several listings for ShihTzu and ShihTzu mix puppies, which would meet the criteria I was looking for. They ranged anywhere from $300 to $3000 (gasp!) I started calling a few but got no answers, so kept looking each day. On the 26th, I texted one phone number from an ad and got a reply back, "Yes! We still have three 6 week old females. They are $350 each." I drove over that afternoon and picked one out. They were so adorably cute, it was all I could do to resist taking two.
If you think the breeder's cost of a puppy is all you need budget for, think again. I am hoping the first year is the most expensive because so far I have shelled out:
$350 Breeder's fee
$ 20 Petsmart Starter kit (full of coupons for vet orientation, supplies and training)
$330 Vet package (includes all first year shots and microchip, plus a discount on spay/neuter)
$240 Dew claw removal (not required, but prevents curling toenails and injuries, as well as making it easier to groom
$493 Spay
$100+ Food, toys, new indoor gate, various supplies
Periodic Grooming at $30-40 a pop
Luckily, I was able to borrow an outdoor pen and already have a dog door, or that would be another $210.  I'm planning to buy ($$) a set of clippers and learn to groom her myself. I remember Dad always bathed and clipped Pierre and he did a better job than a lot of grooming shops. That will save me a few hundred a year.
Anyway, I think it's all worth it. I mean, just look at this cutie pie!
She keeps me on my toes, especially when she's running loose on the carpet. 😉 She's actually starting to do pretty well with pottying. As long as I let her outside on a regular basis, she doesn't go on the kitchen floor at all anymore. However, the feel and smell of the soft carpet are just too much for her and she can't resist stopping to squat from time to time. That always results in a scream from me and a mad chase to catch her and put her out.
She's going to be a good companion as I near my retirement years. I think I made a good choice.