Glenda, Alice and I try to get together at least once a year and lately we've been getting out of town for that visit. We've gone to San Francisco, Las Vegas and taken road trips to Oregon and Washington. This year Alice decided we needed a name. She came up with G.A.D. About, from our first names, Glenda, Alice and Donna.
So we planned our annual sojourn and decided on San Diego. Glenda and I drove over together and Alice flew down from Portland. We rented a vacation apartment in La Jolla, just a short two block walk from the beach, with many little shops and restaurants along the way. The apartment had one bedroom and a futon fold out bed in the living room. We had a small kitchen where we could prepare breakfast each day (and coffee – yes, I did take my Keurig with me!) and we even made one dinner.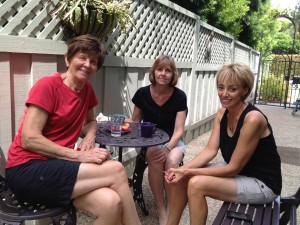 Sitting outside our apartment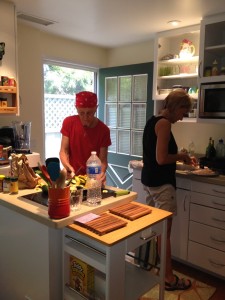 Glenda and Alice preparing a meal in the apartment kitchenette
(I was on cleanup duty)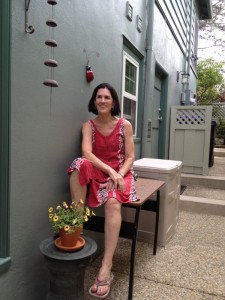 Jackie Booth, our landlord
On day one, we went to a Farmer's Market in the morning to pick up some fresh produce, and then went over to Balboa Park in the afternoon. We heard the Spreckles organ play (it's the largest outdoor organ in the world, with over 4500 pipes), walked through the botanical gardens and rode the tram around the park. It was a very warm day, and we were pretty melted by mid afternoon, so we headed back to La Jolla, where we walked down the street to an Italian restaurant for dinner. On Day two, we visited the Birch Aquarium in the morning and then drove over to Coronado Island where we love to walk around. We went down to the beach and put our feet in the ocean for a bit, walked through the beautiful hotel, and then checked out some of the shops.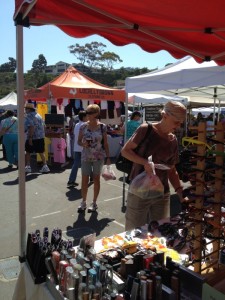 The Farmer's Market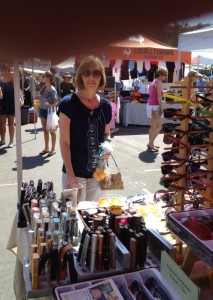 Lots of shiny things to buy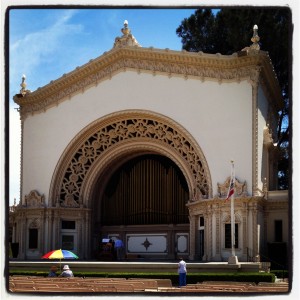 The Spreckles Organ Pavilion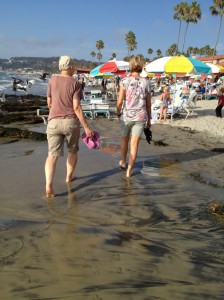 Wading in the ocean
On Tuesday (day three), we went to see the Memorial Cross on Mt. Soledad where we tried some Geocaching with no luck at all. After that, we drove up to Newport Beach and then on to Irvine. Alice has worked for FPM (Financial Planning Ministries) for several years since her retirement from the church, and the main offices are there. Her boss Mike took us out for dinner to a great Mexican restaurant. On Wednesday, we were lazy, just doing a little shopping before driving up to Carlsbad to have dinner with a former co-worker of mine. They have a lovely home in the hills adjacent to Legoland and treated us to a delicious dinner of grilled pork tenderloin and salad with cheesecake for dessert.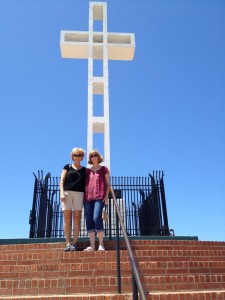 Glenda and me at the Soledad Cross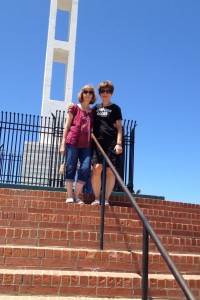 Alice and me
Thursday was forecast to be a bit cooler, so we got ready early and were at the gate of Sea World at 8:45. They opened at 9:00, and we planned to take in as many shows as we could before noon. After we picked up a schedule, we found none of the shows started until 11:00, so we checked out several exhibits before seeing the dolphins, sea lions, pet antics and Shamu show. We were sweltering in the high 80° temps (with high humidity and very little shade) and headed home at 2:30 without riding a single ride. Later, we ate at a sushi restaurant in the village and went to bed early.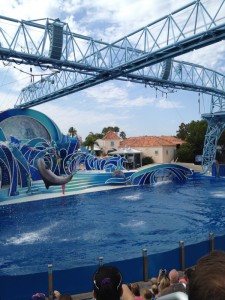 The Sea World dolphins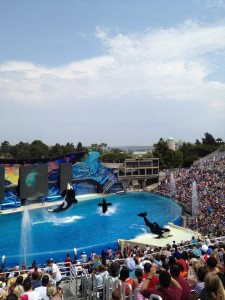 Shamu, Shamu, and Shamu
Friday was our last day, and we went to see The Odd Life of Timothy Green, and then to Seaport Village to wander around for a while and listen to the music.  We ate our last dinner together at another Italian bistro near our apartment and sat and talked the rest of the evening. Glenda and I dropped Alice at the airport just before noon on Saturday and we headed back across the hot desert. We could tell there had been some rain in the Valley while we were gone, and everything looked fresh. However, I did miss my little doggie, Hope, welcoming me home. I still feel her absence.
It was a great week with a relaxed schedule, cooler weather, plenty to see and do, but mostly just spending special time with my wonderful BFFs.