I made another trip to Boise in May. I happened to time it perfectly for seeing Megan perform in their church spring children's musical program. Capital Christian Center is blessed to have Frank Hernandez as their children's musical director. Frank and his wife, Betsy, are professional songwriters and have produced and published several children's musical programs, including "Bullfrogs and Butterflies" and the well known "Music Machine", which my kids performed at Northside Christian Church when they were little.  Frank and Betsy wrote the musical "The Amazing Book" a few years ago, and that's what CCC's kids performed the weekend I was there.
Megan auditioned for and won the part of  Dot, one of two nerdy experts who helped explain what the bible is all about to an energetic and inquisitive boy in the library.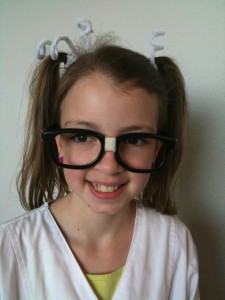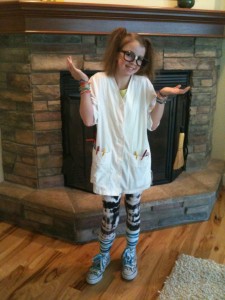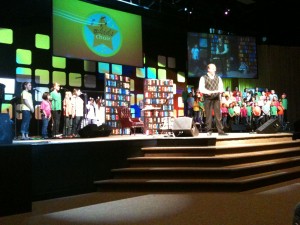 Megan had a two line solo in one of the songs, but it was her acting and dancing that really stood out. Here are a couple of video clips from the show that I took with my iPhone.  The quality is not very good, but Megan is the one on the "right". You can see them better on the screen above the choir.
In this clip, Megan's two solo lines start at "First and Second Peter". Listen quick!
Megan has started on pointe in her ballet classes this year. I will miss her spring recital this year, but I did ask her to put on her shoes and give me a demo of some of her dance positions. I think she has the beauty and grace of a beautiful dancer.
Steven is just finishing kindergarten, and he is going to a private school. He was all dressed in his school uniform the morning before I left, so I snapped a picture of this little handsome.
Robin and Ken are getting a makeover on their house, painting walls and cabinets, staining the wood floors, and building an outdoor barbecue kitchen. The workers started on the paint prep the morning before I left. I snapped a quick picture of the kitchen so we could all say good bye to the old and anticipate the new.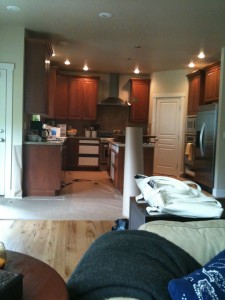 Robin texted me this picture of the progress part way. The workers still have things torn up and the floors are not stained yet, but you can see how nice the cabinets are coming along and how much brighter the kitchen looks.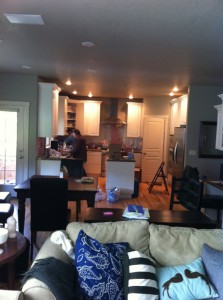 The only other thing we did while I was there was attend a baby shower for a couple in the church (the senior pastor's son) who just adopted twin baby boys. When I heard the news of how they got them, I started to cry. I always get teary over sweet adoption stories since Andrew came into our family. The weather was beautiful, their first nice weekend since winter, so my timing was great. It was a wonderful visit!