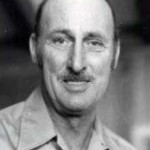 In honor of Father's Day, I list ten things about my father, Donald John Lafferty.  First a short biography: he was born on October 7, 1922 in New Hudson Township, New York. He grew up on a maple and dairy farm as the oldest of three children. He married Eloise Briggs in 1946 and had five children. (I was the fourth child, the only girl.) He served in the U.S. Army Air Corp for three years during World War II, stationed in Germany and England. He died on June 10, 2004.
He built a four bedroom house, in Cuba, NY, which our family lived in for several years before moving to Arizona. I have very limited memories of the house because I was so young when we lived there, but I know my bedroom was adjacent to the kitchen dining area and we had a wooded area behind our back yard.
He was a great mechanic, keeping all of our household appliances and vehicles in excellent working condition. It was a momentous day whenever we bought a new appliance, because it was certain the previous one had lasted far beyond the typical warranty period due to Dad's ability to keep it in running condition.
He built the "world's first motor home" when he converted a small school bus into a traveling camp vehicle for our family to live in while moving across the country from New York state to Arizona. We stopped at many sights along the way, picnicking, exploring, relaxing and learning firsthand about the country beyond snowy upstate New York.
He was a great proponent of seat belts, installing them in our vehicles long before most people even knew about them. I remember we had one long seat belt for the entire bench seat in the back, but that was at least more effective than no seat belt at all.
He smoked cigarettes for several years, but quit shortly after evidence was publicized that it caused cancer.
He loved camping and took our family on a camp trip nearly every summer. We visited dozens of state and national parks and monuments, learning the history and geography of our country on an economical budget.
He loved country music (we called it hillbilly back then), and would occasionally play the radio in the car while he was driving. Mom hated it and it was a frequent source of arguments between them. He played the guitar and would sing for hours (especially in his later years after he retired) the songs made popular by such country stars as Johnny Cash, Hank Williams, Merle Haggard, and Glen Campbell.
He developed dementia in the final years of his life and lost much of his judgment capabilities, but he never forgot who each and every member of his family were. Every time I visited him in the nursing home, I took him an ice cream sundae. He loved it and looked forward to it and would ask me for specific flavors (usually butterscotch or hot fudge).
I have no doubt that he would have been a great technology wizard if he had been born 50 years later. He was that progressive and loved new inventions, as well as learning and studying new things. He would have been thrilled at the power of the internet to instantly communicate and access information on any subject in the world.
He loved his family and we loved him. I frequently think of him, sometimes when a memory hits, but oftentimes when something new comes along that I think how much he would have enjoyed experiencing it. He left a legacy of family values that is passing from one generation to the next through the Lafferty clan.