I bought a Winnebago Minnie motor home today. I've had my eye on one I found online several weeks ago; it was on a consignment lot in Tucson. It's a 2005, 27′ with a small slideout (which the dinette sits in). Richard checked Blue Book value on it and it was very reasonably priced. He agreed it looked like a nice coach for me, so I emailed the salesman. He was eager to show it off to me and let me take a test drive.
I asked Richard & Dianna and Dale to go with me, and we drove down today to see it. It is in great shape and has all the things I want: nice size, a bed in the back so I don't have to climb the ladder to the cab-over bed (I'll save that one for the grandsons!), shower stall, lots and lots of storage – both inside and out, and it drives/rides really well. It was the first time I've driven a motorhome since the Tramper back in the late 60s / early 70s, but I didn't have any problems, with the huge side mirrors and rear view camera to assist me.
Here are a few pictures that I copied from the seller's website.
Here I am as the proud new owner!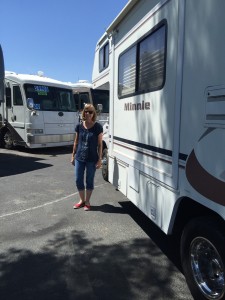 I have to widen the gate to my side yard before I can bring it home. Hopefully, I can get that taken care of in the next couple of weeks.
With just 10 months to go until retirement, this new purchase is going to increase my case of short timer's disease. I can't wait to quit work and hit the road. In the meantime, I'll get this all cleaned up, and prettied up, and take a few weekend trips to get the bugs out and learn the ropes. Who wants to join me?