I go to Disneyland so often now (I even bought an annual pass) that I don't post updates about my trips anymore. But my most recent visit to the Happiest Place on Earth was my happiest visit ever, so I have to mention it. Disneyland at Christmastime is absolutely spectacular! I'm not one who likes to start celebrating Christmas before Thanksgiving, but last weekend that changed for 2014. Seeing and experiencing millions of lights and decorations, music and magic, I just couldn't help feeling like Christmas had arrived.
Disney goes all out, transforming several rides with Christmas themes, adding holiday treats to their menus, and best of all, lighting up Sleeping Beauty's castle and It's a Small World. The Jungle Cruise becomes the Jingle Cruise; all the animals are covered with lights and decorations and the boat captain's spiel is holiday nuanced. The Haunted Mansion takes on the "Nightmare Before Christmas" theme, with Jack Skellington as host, and gingerbread aromas and decorated ghosts everywhere. Small World is transformed on the inside as well as the outside, and every land shows off holiday embellishments and the repetitive "Small World After All" song morphs into Jingle Bells along the way. The Main Street Parade has float after float decked out in red and green, and dancers and characters remind you that it's holiday time. Santa and his sleigh bring up the rear, of course.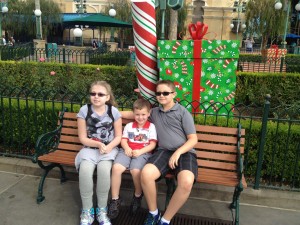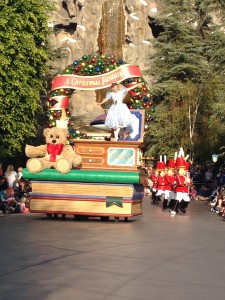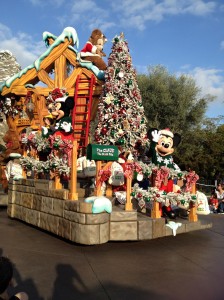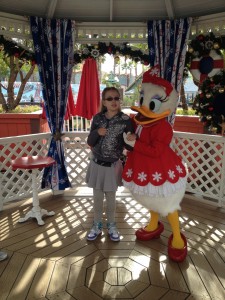 The first evening we were there, we came off the Indiana Jones ride and were heading back to our hotel at about 7:00. As we turned onto Main Street, it suddenly came alive with music, lights and snow (yes, snow!) and the "Lighting of the Castle" event was in full swing. It was totally unexpected for me, and I stood transfixed watching section after section become aglow with lights and decorations. It was absolutely one of the most beautiful things I have ever seen, and by the time it was radiating from top to bottom, I was a blubbering baby. Nathan sweetly put his arm around me and said, "It's okay, Nonna. It's pretty, isn't it?" I sniffled for half the walk back to our hotel.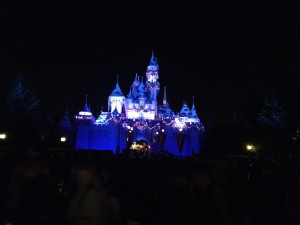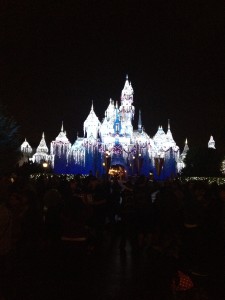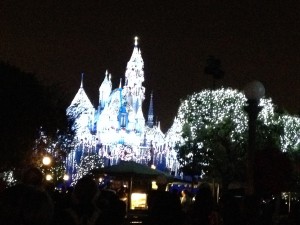 The next evening, Carrie wanted to get the kids back to the hotel early and into bed, so after walking them all "home", I headed back to the park simply to experience the castle lighting again. After it was over, I walked around to Fantasyland to see "It's a Small World" and got there just in time to watch the 3-4 minute animation production that is displayed across the front of the structure. Magnificent!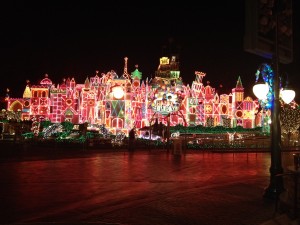 We saw the castle lighting one more time on Monday night, and yes, I cried my eyes out again. On our final night, we stayed to catch the fireworks show. But alas! unfavorable weather conditions (high clouds and breezes) caused the cancellation of "Believe", and we went home disappointed to have missed it.
The whole time I was there, I was secretly trying to figure out how to get back for another visit before January 6 when the holiday theme ends, but with limited vacation time left this year, and even more limited funds, it will have to wait until next year. Believe me, I will be there!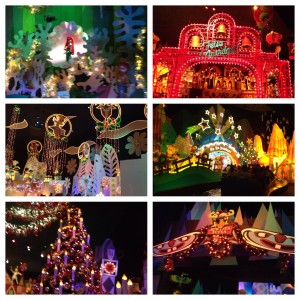 Disclaimer: I ordered a new iPhone 6+ a month ago, but it didn't come until after the trip, so all of these pictures are taken with my 3 year old cell phone. The quality is not that great, and I don't claim to be the world's best photographer, plus I had to shrink the pixel size to upload them to the server. So you'll have to use some of your Disney imagination to mentally enhance these photos into a better reality.
Merry Christmas! Oh yeah, and Happy Thanksgiving!