We took a trip to Disneyland the last week of February. Brian went with us this time, as well as Kris, one of Lauren's providers. The day we arrived, it was raining pretty good, so Kris stayed at the hotel with Lauren while the rest of us braved the elements and went to the parks. We thought the crowds would thin out with the rain, but I guess everyone thought the same thing because it was pretty crowded. We stayed until about 6:00. On the way back to the hotel, Carrie tripped in the crowded Downtown area and fell flat on her face, hands and knees. She scratched both glasses lenses, cut her nose and bruised her hands and knees.
We hoped for lighter crowds on Monday, as it was still very cloudy and sprinkling much of the day, but, like us, everyone trudged on. We found many of the rides down, some for scheduled refurbishment and some that were just out of order. We got Fast Passes for the Frozen show and got in out of the weather for a while. Late in the afternoon, as we were about to get on Toy Story, Lauren went into a seizure. We had no oxygen because the travel tank had accidentally drained during the trip. So Carrie gave her seizure meds and after a bit, she came out of it. That sure put a damper on the day, more than the rain had. After a long rest and some dinner, Kris took Lauren back to the hotel and Brian, Carrie and the boys and I stayed to watch the Electric Light Parade, which recently returned to Disneyland after a 21 year absence.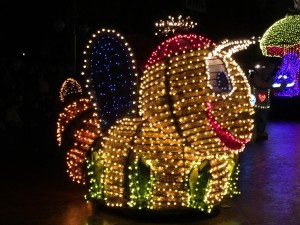 Tuesday brought some sunshine, but unfortunately, we still found many rides out of order. In fact, Disneyland even had a power outage in part of the park that morning and most of the rides in Adventureland, Frontierland and Critter Country were down for a few hours. We found other things to do to make a fun day, and then Brian had to leave to catch a flight home that evening. Kris took Lauren back to the hotel while Carrie and the boys and I stayed in California Adventure to do the Bug's Land rides at night. That's become a tradition for Nathan and me. We love that little land after dark with the twinkling lights and buzzy sounds, and (best of all) no LINES!!
Our last morning was a beautiful spring day, but by then, the boys had had enough disruption and they were full of monkeyshines. We spent a good part of the day dealing with behavior issues, and I almost had to use my "mean voice", which the boys do NOT like at all! At the end of the day, Carrie had to take Andrew back to the hotel with Kris. Nathan and I rode a couple Bug's Land rides and headed back ourselves. Everyone was ready for bed and home.
As I drove home, I thought, "I have had my fill of Disneyland for a while". But then I remembered what it was like to get up every day and go to work. And I realized every moment of each harrowing day was so much more fun than working, and within a week, I was ready to return!
Save
Save