I went to Orlando last week with Carrie and the two boys. We stayed in a condo just a couple of miles from Universal Studios on Brian and Carrie's time share, and Brian used his frequent flyer miles to buy all four of our tickets. I paid for the rental car and parking at Universal and Walt Disney World all week; it was the least I could do for an otherwise free trip to Florida!
I had heard about The Wizarding World of Harry Potter in Universal Orlando, and being a Harry Potter fan, I was very excited about visiting. Universal is split into two parks: Universal Studios and Islands of Adventure. Really, it's just a way to get more of your money, as you have to pay for admission into each park, or upgrade your daily ticket to a "park hopper". There is a HP World in both parks and the Hogwarts Express runs between them. London and Diagon Alley resides in Universal Studios, and Hogwarts and Hogsmeade is in Islands of Adventure. Of course, you have to buy a park hopper ticket to ride the train.  We splurged for the park hoppers, and got the whole experience.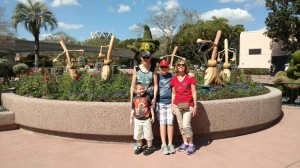 The London area is very obvious and easy to get to in the park, but the entry into Diagon Alley is well hidden, and the staff is no help in getting you there. They play the part of muggles, and claim to know nothing about Diagon Alley or Platform 9 3/4. But if you follow the crowd, you'll find it easy enough. The moment you walk through the brick maze entrance, you are suddenly in the midst of the magical land. It's amazingly well done, with many details from the books and movies incorporated into the village.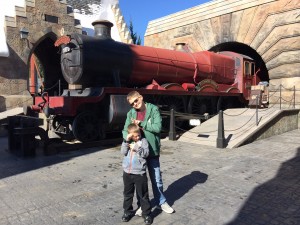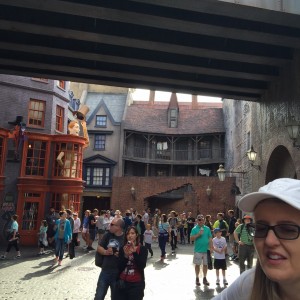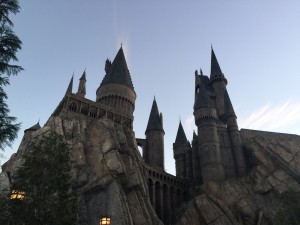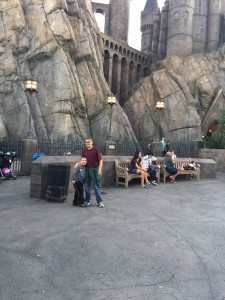 The boys visited Olivander's Wand shop and got an magical wand. It  has a chip inside and interacts with dozens of spots throughout both villages, as you cast spells, charms and hexes on unsuspecting animatronics.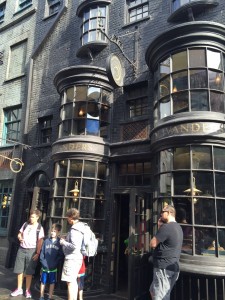 We visited Knockturn Alley and Gringotts Bank, where there is a dragon perched atop the building that blows fire from time to time. You never know when it's going to happen, because she is alive after all and does it whenever she wants to, according to a cast member outside a store.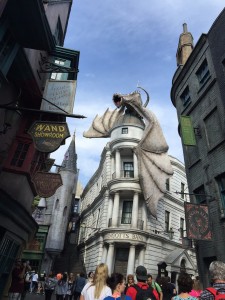 We ate one dinner in the Leaky Cauldron and had a mug of butter beer (non-alcoholic). We also bought candy at Honeydukes to bring home.
Our favorite rides were Escape from Gringotts, the Forbidden Journey at Hogwarts, the Flight of the Hippogriff, and the Hogwarts Express. Nathan loved the Dragon Challenge, a wild roller coaster with 3 or 4 upside down loops. Universal has done an amazing job on their 4D rides. It's hard to explain, but it's sort of like riding a coaster cart through several 3D theater scenes. We agreed Disney needs to step up their technology, and we won't be surprised if the new rides at Star Wars Land will incorporate this 4D style.
Harry Potter is not the only featured attraction at Universal. There are many other land themes throughout the 2 parks, including Jurassic Park, Marvel Spiderman and Transformers, Poseidon, Dr Suess, Cartoons, Simpsons, Minions, and more, and we took them all in, some of them twice.
My last trip to Walt Disney World was in 2011, so it was a lot of fun to get reacquainted with the parks and ride Snow White's Mine Train, a new attraction since my last visit. We spent three days at Universal, and four days at Walt Disney World, We had already purchased 3-day WDW park hoppers, but traded them in for 4-day one park tickets, and agreed it was actually a better way to see the "World". Hopping from park to park takes a lot of time and energy out of your day.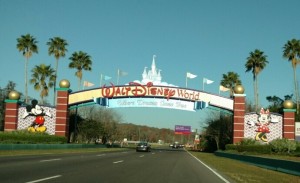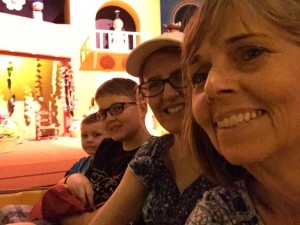 It was a really fun trip. I am a big fan of Disney and theme parks and this was a great diversion from my short-timer's disease at work. Once I came back, I started my 4 week countdown to retirement!