I blogged back in January about my trip back to Indiana and Kentucky to see my dear friends, Wendy and Denice. I wrote that I was not even back on the plane home when they had made their flight reservations to come to Arizona in March. That happened last week over my 60th birthday. What a wonderful time we had. They were here from Saturday, the 24th until Thursday, the 29th.
Robin, Ken and the kids flew in from Boise on that same Saturday afternoon. Since Robin & Ken were going directly to a gallery showing for Roland's photos, they asked me if I would like to pick up the kids from the airport and keep them for a few hours. I pulled up outside their terminal and Robin ran them out to me. Megan, Steven and I came to my house and had chili and cornbread supper, and watched half of Mary Poppins before it was time to head back to the airport to meet Wendy and Denice. We parked and went into the terminal and waited outside Security. The minute they came through the gate, Robin showed up from the other direction to pick up the kids. What good timing!
We went to Spring of Life Christian Church on Sunday morning, because Ken is working with their staff and that was one of the reasons for their trip here. I had emailed Dianna to see if she and Deidra wanted to join us at service and they did. We enjoyed an inspiring worship time and a great sermon. That afternoon, we headed over to Brian and Carrie's for my 60th birthday party.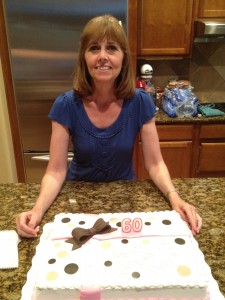 On Monday, we drove down to Tucson so we could revisit our old stomping grounds. We drove around the Flowing Wells district, past our elementary schools, and stopped at Shamrock Dairy in the morning.
 It was fun to drive down familiar streets and find businesses and churches that were there 40 years ago still open. We saw Lowry's Hardware, Oracle Road Rent-All, and Del Norte Baptist in their rightful places, plus many motels and restaurants on Miracle Mile.  Then we went over to the Tucson Mall to meet a cousin of Wendy's for lunch at the Olive Garden. In the afternoon, we made stops at all our old houses. Denice's and my Kilburn Road houses are now apartments, but Wendy found her two houses still standing.
Then we went to the high school to walk around.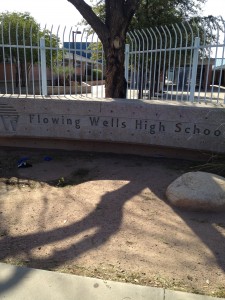 School was done for the day when we got there, so there were no kids on campus and we were welcomed as alumni by several staff members who asked if they could answer any questions. We went into the office to look around and the assistant principal(??) chatted with us and even offered to open any buildings we wanted to check out. We  found the old gym already open and the basketball team practicing inside.
There is a brand new large gym south of the football field now. The old cafeteria is part of the district offices and there is a new cafe just west of the auditorium (which by the way, has been expanded into a Performing Arts Center). The football stadium looked the same, as did the library, girls' locker room, and the classrooms with their outside doors.
It still felt like the same place with several improvements, but nothing to erase what made it our school. We arrived back home ready for relaxing in front of the TV and bed. In fact, Denice immediately went to take a nap, and never got back up until the next morning. Poor thing; I tired her out!
On Tuesday, we met up with Glenda for a bit of shopping at the beauty supply house (where she has a professional discount) and lunch at Valle Luna.
That evening we went to Hale Centre Theater to see Nunsense. I had no idea going in what the story was about, but it turned out to be very funny, and the music was great. We really enjoyed our evening out.
On Wednesday, we went to the mall where I spent my birthday money at the Apple store on a new iPad. While I did the initial setup with the Apple technician, Wendy and Denice went to drop some money in a shoe store.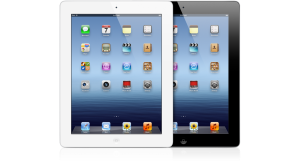 We had a light lunch in the food court and came home for quick naps before going over to Mom's for dinner. Robin, Ken and the kids were there too, and we each enjoyed goulash, or shrimp, or grilled cheese and tomato soup. It was a fun time with a full table in the Fellowship Square dining room. We had a short visit with Mom back at her apartment before heading home for our last night together.
The girls flew out early Thursday morning, and I went on to work, but the joy of our time together has remained. It was a week to remember and has renewed and deepened our old friendship. I love these two girls!